With the 2016 elections heating up, digital advertising might be the one thing that tips the scale for candidates. Though not as large as traditional television, digital ad spending is the fastest growing slice of the political advertising pie and quickly becoming lucrative for ad tech companies.
In both 2008 and 2012, President Obama successfully reached voters with his digital campaigns. Needless to say, social media and ad tech have evolved into a sophisticated medium to reach targeted audiences. Here's a look at some of the highlighted trends:
President Obama spent 10X more on digital advertising than Mitt Romney and 5X more than John McCain in 2008
An estimated 5000% increase in digital advertising spend over 2008
Video advertising will be a driving force in the 2016 election
---
The infographic below highlights key trends and views for political digital advertising in 2008-2016 digital advertising's political spend.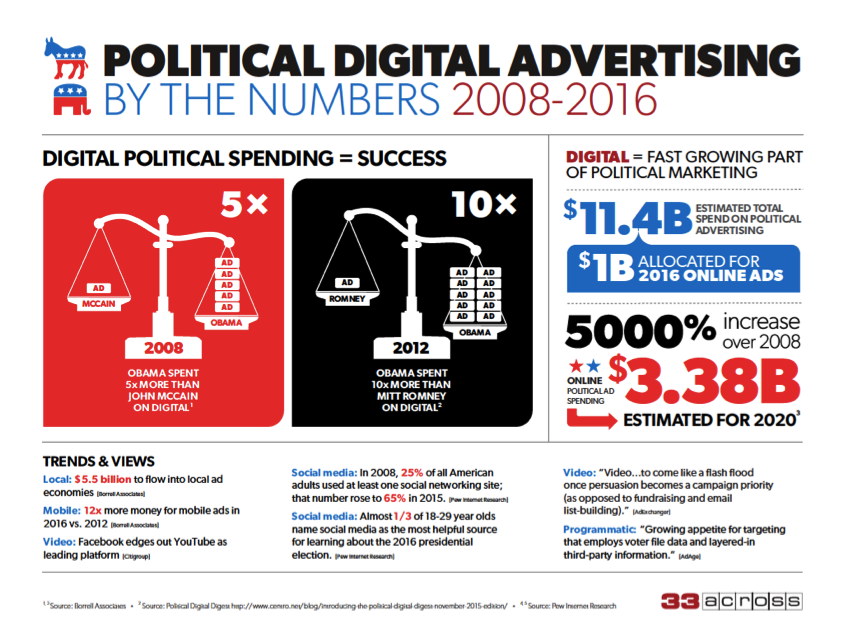 ---
Watching how election 2016 embraces digital advertising will be interesting, especially in Q3 and Q4, once candidates are selected. It may also make a huge difference when trying to reach notoriously difficult voters.